iMS Motion Solution (Johor) Sdn Bhd
7, Jalan Sasa 4,
Taman Gaya,
81800 Ulu Tiram,
Johor, Malaysia.
+607-8635240

+607-8637240

1700-818-330 (Hotline)

+60167336610
LRPX22 Brushless DC Planetary Gear Motor
RM 0.00
300 g
In Stock
LRPX22

Brushless DC Planetary Gear Motor
Low Noise RapidPower™ Xtreme Series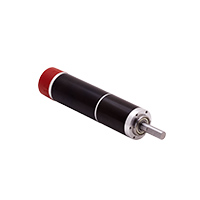 Size:
22mm (0.866 in)
Peak Torque:
to 3.0 Nm (424.8 oz.in)
Continuous Stall Torque:
2.5 Nm (354 oz.in)
Speed:
Up to 2286 RPM
Exquisitely efficient small form factor BLDC motor that has peak operating efficiency at traditional RPM ranges, allowing custom integration with a planetary gearbox. High torque from a small form factor, with low power consumption and peak performance at lower RPM for quiet operation.
Traditional BLDC motors have peak performance at very high RPMs. These speeds are simply too high to make efficient use of a gearbox, and even when a traditional BLDC motor is paired with a custom high-rpm gearbox there are typically noise and heat issues that make it prohibitive for discerning applications.
The LRPX carefully integrates the unique RPX series motor with a custom planetary gearbox. The result is a small form factor BLDC motor that can produce high torque at low RPM and offer strong, smooth operation with low noise!
Our Agency Product Brands